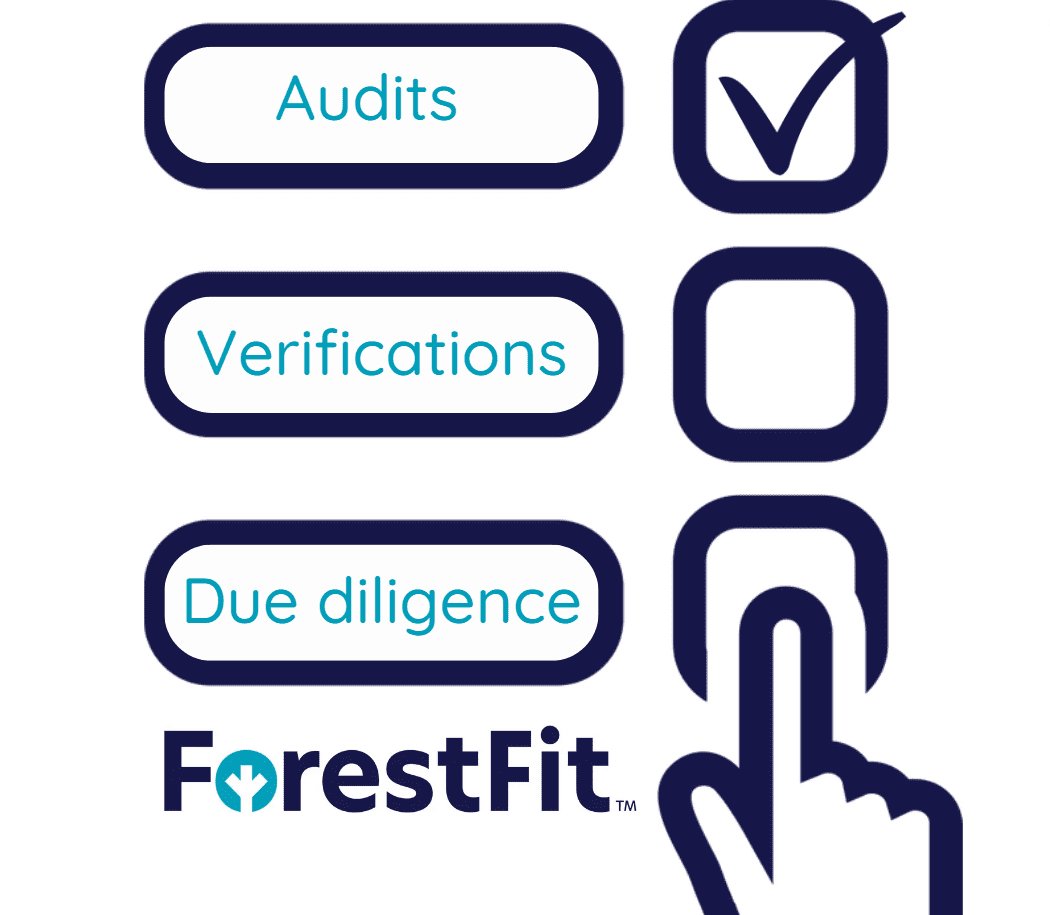 Independent third party assessments
A fully certified forestry supply chain strengthens the social license and public confidence that the Australian forest industry operates at the highest international standards.
ForestFit™ Certification Standards provide a whole of business approach to support sustainable, safe and environmental business practices to strengthen future viability.
ForestFit™ Certification was designed to meet the the principles of AS/NZS ISO/IEC 17067:2015 Conformity assessment - Fundamentals of product certification and guidelines for product certification.
ForestFit™ Certification was designed to meet the the principles of AS/NZS ISO/IEC 17067:2015 Conformity assessment - Fundamentals of product certification and guidelines for product certification.
The ForestFit™ Standards utilise the requirements outlined by AS/NZS ISO/IEC 9001, 14001 and 45001.
ForestFit™ criteria are benchmarked for alignment to relevant contracting business criteria within the recognised Australian Forestry Certifications – the Forest Stewardship Council (FSC) and Responsible Wood (Programme for the Endorsement of Forest Certification, PEFC).
ForestFit™ audits are conducted annually by independent third party certifying bodies bodies (CBs) that are accredited by JASANZ.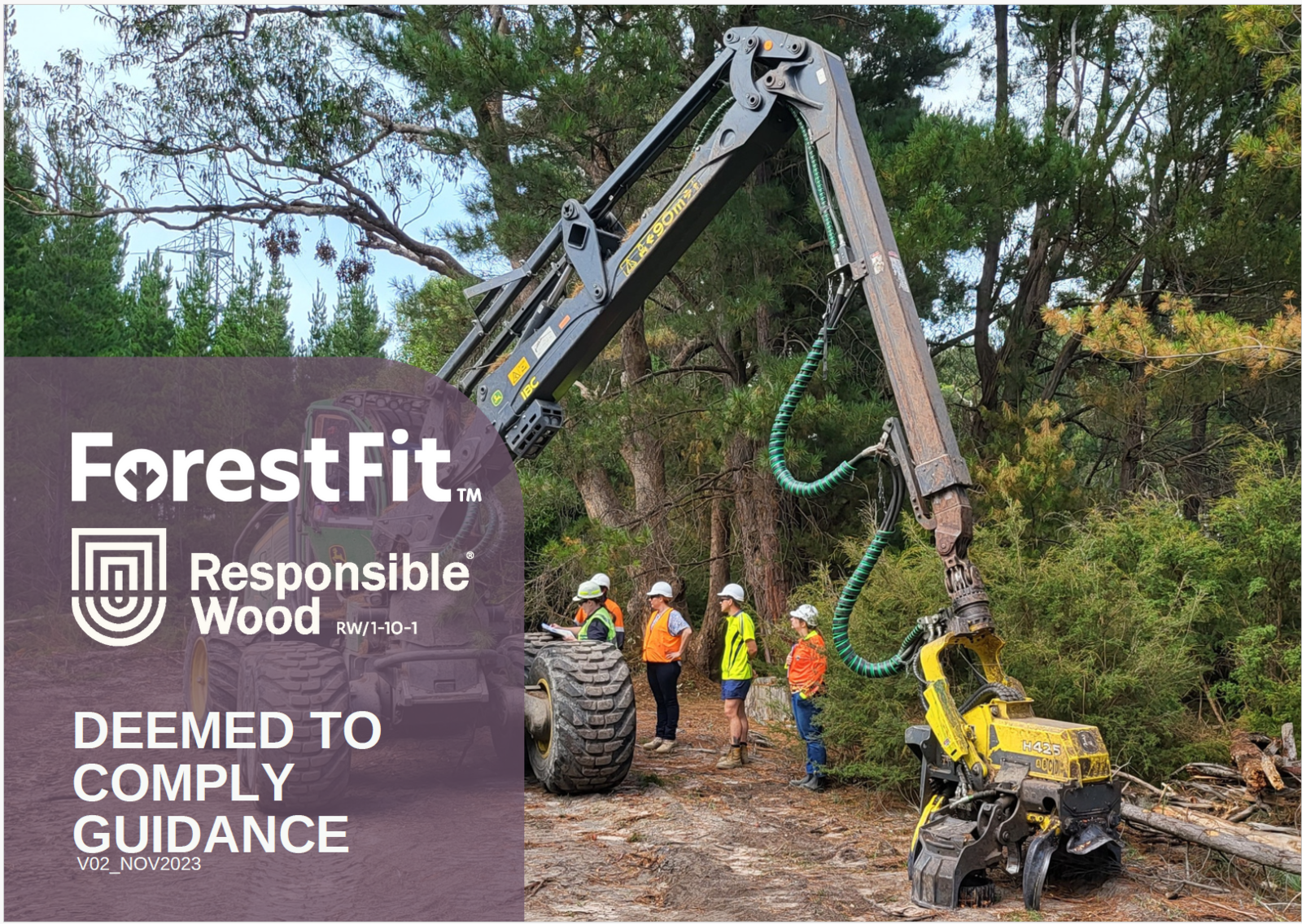 Responsible Wood: Deemed to Comply
Forest managers utilise AS/NZS 4708 to certify that their native or planted forest product was grown and harvested at a location that was managed in accordance with the a set of predetermined and clearly defined requirements. This includes 21 criteria specifically related to operations undertaken by external forest contracting businesses.
To eliminate audit duplication a 'Deemed to Comply' agreement has been established with Responsible Wood. ForestFit™ certified businesses are assessed to these criteria as part of their annual surveillance audit, therefore may be excluded from the sample selection for the forest grower's AS/NZS 4708 audit.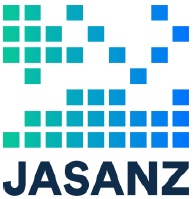 Australia and New Zealand accreditation body
ForestFit™ is currently undergoing endorsement by the internationally recognised bi-national government Joint Accreditation System of Australian and New Zealand (JASANZ). JASANZ
accredits the bodies that certify or inspect organisations' management systems, products, services or people.
Confidence with commitment
Global-Mark is an Australian owned and operated company, based in Sydney with a primary focus on servicing Australian and New Zealand businesses.
Global-Mark is one of the largest certification bodies operating domestically, and we provide a broad range of services to ensure that we can certify against all standards that our clients may require. Global-Mark has issued in excess of 15,000 certificates and we service over 6,000 clients currently.

During 15 years of operations we have developed relationships with more than 100 auditors located around the country. These auditors are selected based on their technical knowledge, industry experience and excellent communication skills.
While we have a stable and multi-skilled management team, we pride ourselves on remaining a family-owned business, with the commitment to customer service that this brings.

Our Forestry program has been operational for more than 10 years, and in addition to FSC® and PEFC, we are very pleased to now be offering ForestFit certification services.

For more information, please contact us at: customerservice@global-mark.com.au

Click on the Global-Mark logo to visit the website.
Making excellence a habit
BSI enables people and organizations to perform better. We share knowledge, innovation and best practice to make excellence a habit – all over the world, every day.
For more than a century we have been challenging mediocrity and complacency to help embed excellence into the way people and products work. That means showing businesses how to improve performance, reduce risk and achieve sustainable growth. As a global leader in helping organizations improve, our clients range from high profile brands to small, local companies in 193 countries worldwide.
Our clients choose us:
For our unique client management structure

For our expertise

For our integrity

Because we are performance minded

For our expert assessors
We are devoted to supporting our clients in making excellence a habit. For every business. Every day. Everywhere. If there's any way we can help, please let us know.
Email us: info.aus@bsigroup.com
Click on the BSI logo to visit the website.
What people are saying...
"Our experience was very fruitful from an overall business perspective. It allowed us to work on areas we hadn't placed adequate resource or focus and create a more rounded Management System."
Certification pilot participant
"The GAP analysis allowed our business to proceed with things with assurances around them and the support of the process. These things were more efficiently prioritised and processed ensuring swift action and application."
Certification pilot participant
"ForestFit Certification is a holistic process for contractors to refer to and undertake. Consistency is something the industry is constantly looking for and Forest fit addresses these issues."
Certification pilot participant
Resource Centre and Certified Register
The ForestFit Resource Centre has been established to provide guidance, factsheets and templates to support forest businesses in achieving certification. Where practicable guidance, templates documents and evidence have been developed to support documentation and evidence requirements of the standards. These have been categorised by standard.
The Certification Standards that applicants are certified against will be listed on their ForestFit certificate and the ForestFit Certified Business Register. The latest version of the certification standards and criteria can be found on the ForestFit portal.